I am proud to announce that I am on the first place of the 2020 World Cup Championship of Forex Trading and hopefully I will be the first trader in the history of this competition to take the trophy to Germany. I am very grateful for everything. I know this worldwide competition from my childhood when I read the books of Larry Williams when he won the competition himself. I always wanted to participate and win the world championship of trading myself after this.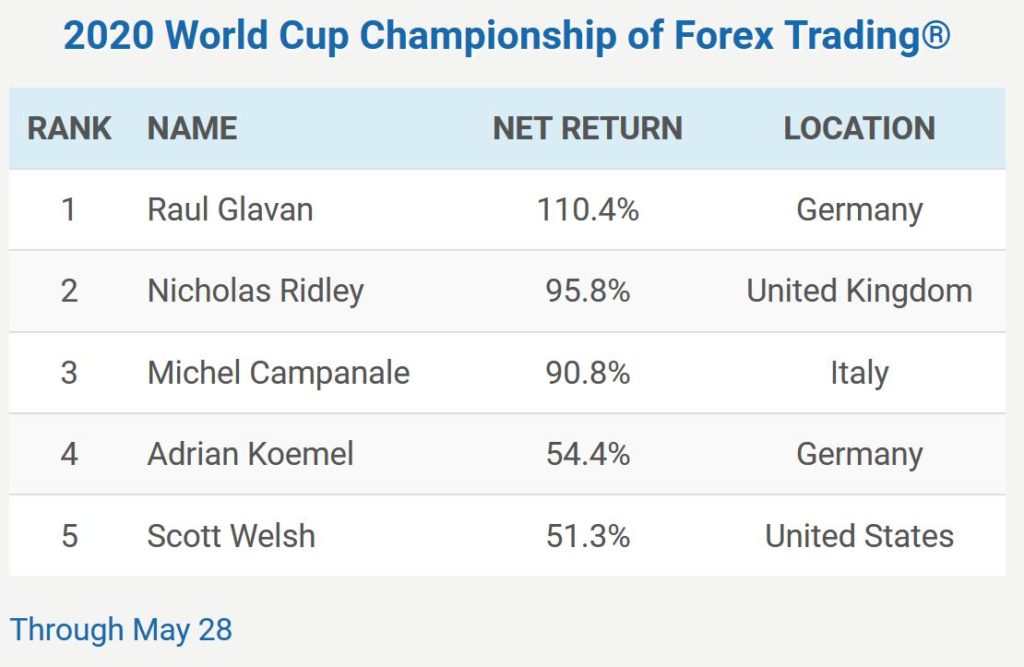 Disclaimer: Trading futures and forex involves significant risk of loss and is not suitable for everyone. Past performance is not necessarily indicative of future results.
Can an artificial intelligence constantly beat the capital market? -> Nobody knows but I am going to try and prove it.
I thank you for all the congratulations and the crazy amount of inquiries by mail, phone and private messages. (sorry for the delay at some points…) I am overwhelmed by so many positive inquiries and feedback. Even though 2020 was a terrible year for humankind and the capital markets were exposed to extreme volatility that went far beyond imagination – my systems were able to close almost every single day of this year with a positive return.
As you know put your money where your mouth is. I have invested my own capital in my artificial intelligence systems which use artificial intelligence in combination with applied behavioral finance for forecasting now over 1.000 different assets (single stock equities, equity index futures, fixed income, commodity futures, FX). I have been developing trading systems now for roughly 20 years (started as a child and winning my first competitions but at this time only with virtual money). But in the last several years I got very strong into artificial intelligence to leverage my applied behavoiral finance / sentiment-based trading approach. And the results are speaking for themselves.
In my opinion, the use of artificial intelligence in asset management and trading is going to change the asset management industry drastically in the next few years.
Some metrics:
Profit Factor: 23,63 (for every invested 1 Euro I got 23,63 Euros in return back)
Profit Trades / Hit Ratio (% of total): 91,67%
Losing Trades (% of total): 8,33%
Maximum drawdown: 2,30%
Maximum consecutive profit trades (count): 32
Maximum consecutive loss trades (count): 2
Short Positions (won %): 97,14%
Short Positions (loss %): 2,86%
Long Positions (won %): 84,00%
Long Positions (loss %): 16,00%
Many thanks to all who know me and have supported my way. I hope you all are doing well and we will pass this difficult time together. Stay healthy.
Best regards
Raul